5th Biennale Internazionale dell'Arte, Florence Italy

The 2005 edition, closed with a large public attendance and a happy presence of 768 artists worldwide. Christo and Jeanne-Claude and Richard Anuskiewicz who were awarded with the maximum recognition, the Lorenzo il Magnifico award for the career, were protagonists of unforgettable days, with conferences that attracted an impressive number of enthusiasts, artists and visitors.
In 2001 The United Nations recognized the Florence Biennale as an official partner in the program "Dialogue Among Nations". The artists of the Biennale, despite their differences of language and faith, found a common language in art to communicate their cultural values, illustrating Kofi Annan's statement: "Art opens new doors for learning, understanding, and peace among people and nations".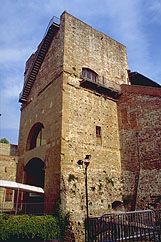 December 3-11
Fortezza da Basso
Firenze, Italy


more information on the Biennale web site

The sixth edition of the Florence Biennale will take place from 1 to 9 December 2007 in the historical Fortezza da Basso.
Intra-muros, Paris, France
At La petite Galerie

Opening reception
Tuesday, December 20, 6 pm - 9 pm
Exhibition
December 18-28, 11 am- 19 pm
35/37 rue de Seine
75006 Paris, France



view the invitation card (pdf 90ko)